Your mobile measuring room
Intuitive data capture with ZEISS T-SCAN 20 and T-SCAN 10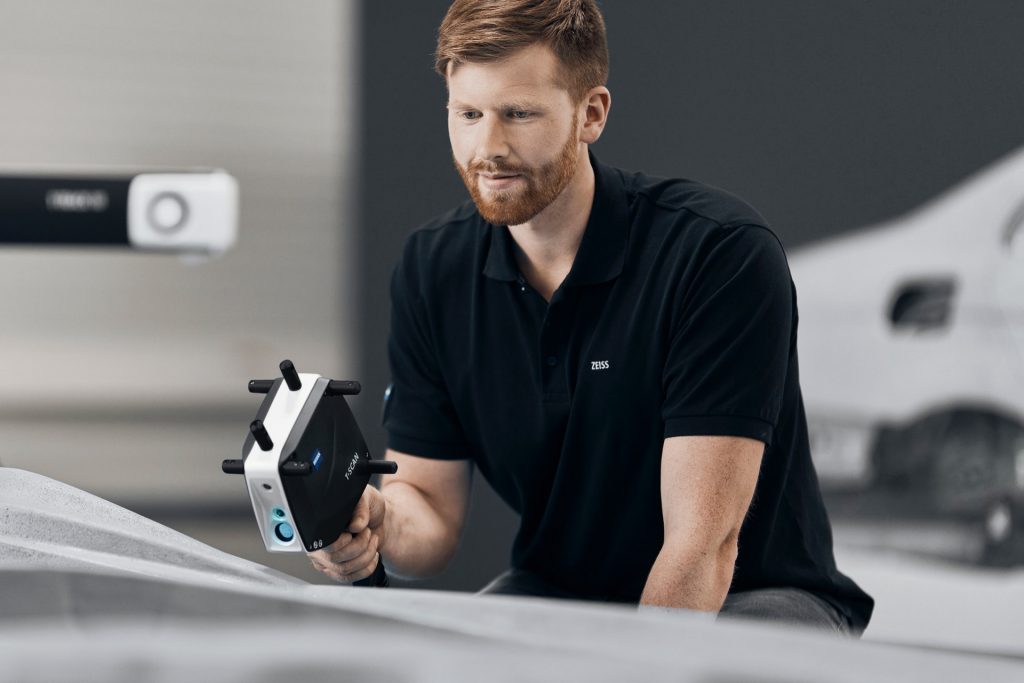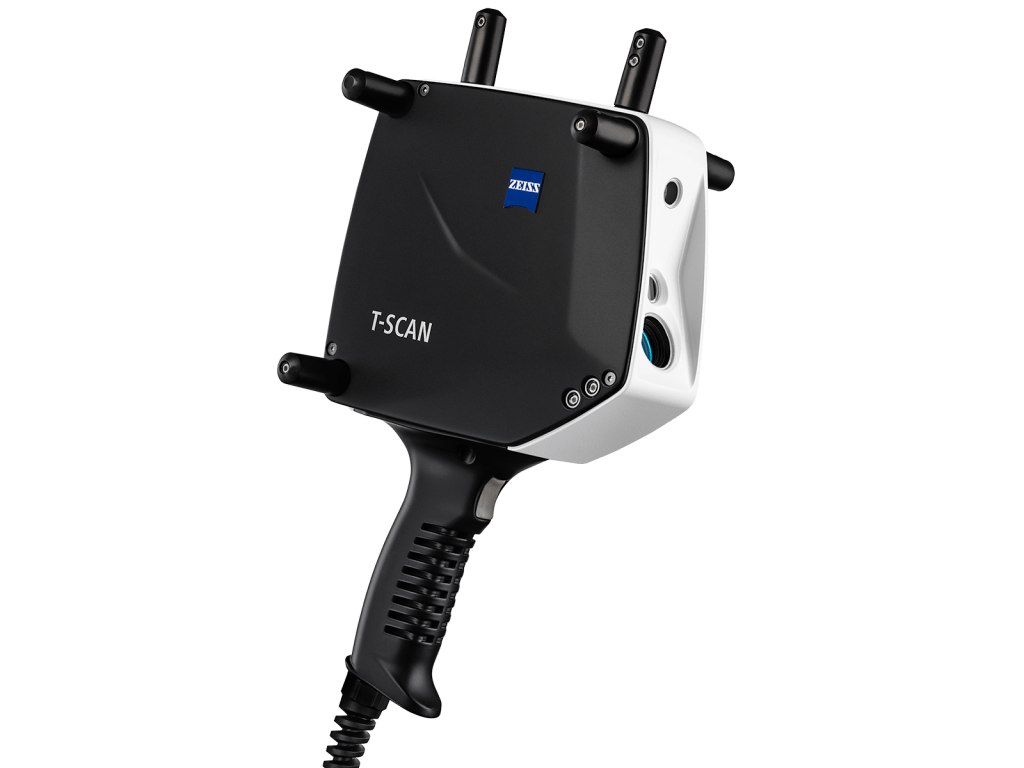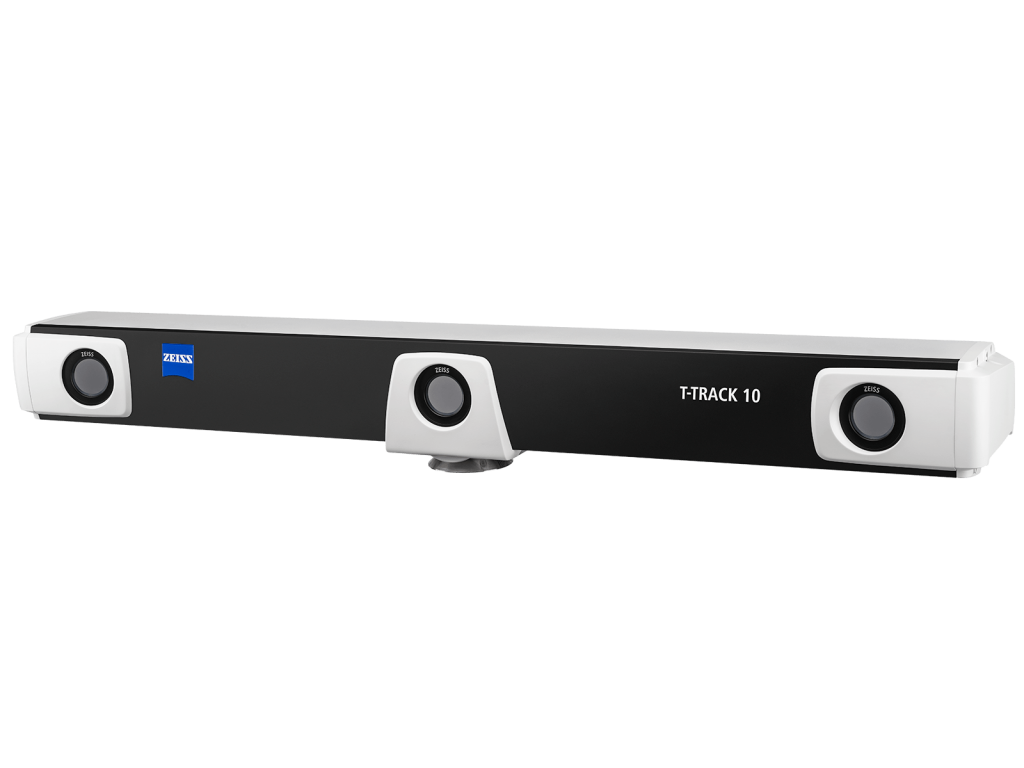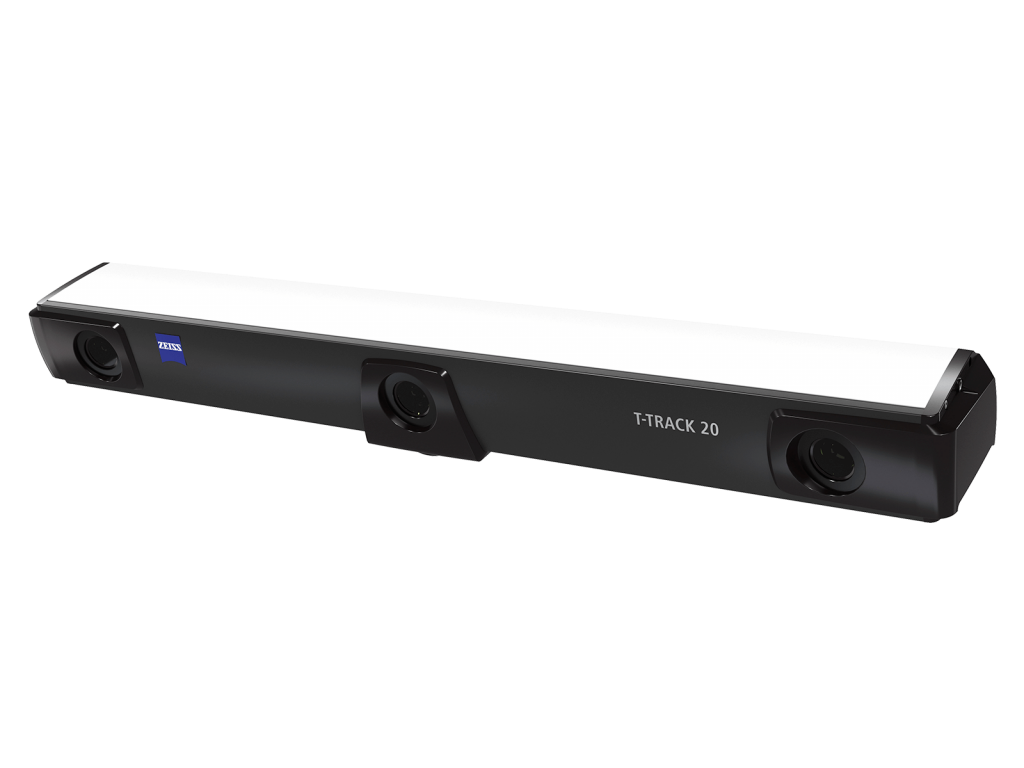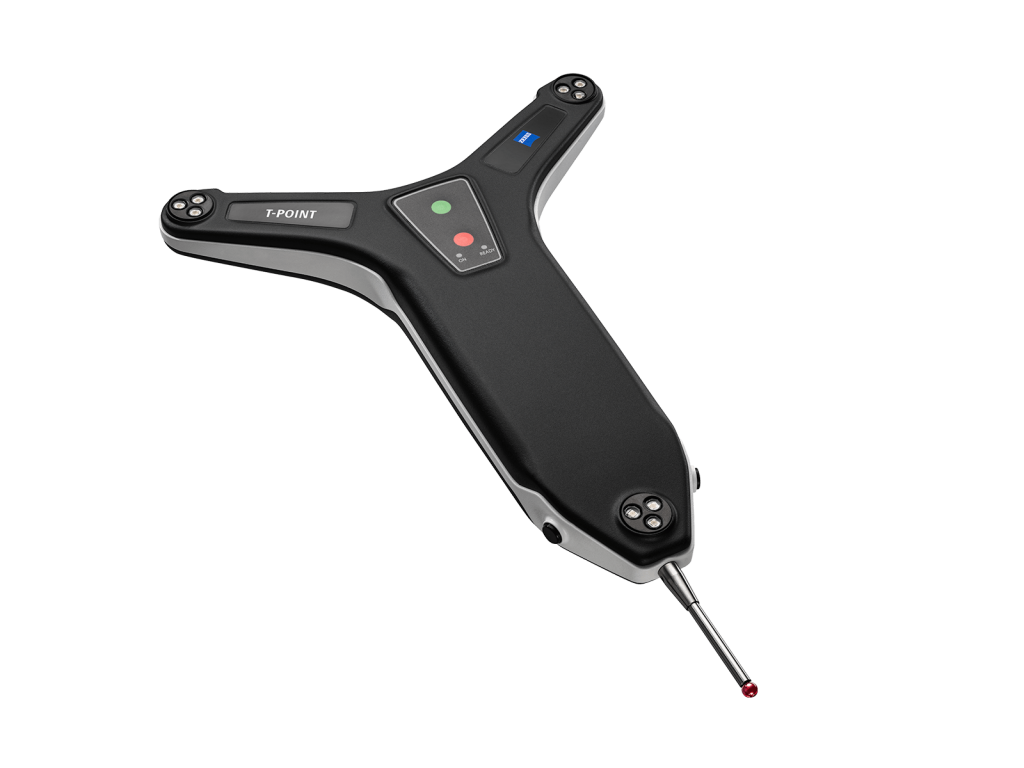 A modular system for data capture without part preparation
Fast, intuitive and highly precise
The modular ZEISS T-SCAN system is your fast way forward: Capture 3D data without any part preparation. Its perfectly matched components – the hand-held T-SCAN laser scanner, the optical tracking system T-TRACK and the touch probe T-POINT – form an intuitive and highly precise 3D metrology solution. In combination with the software ZEISS INSPECT, it reaches a new dimension in coordinate measuring technology.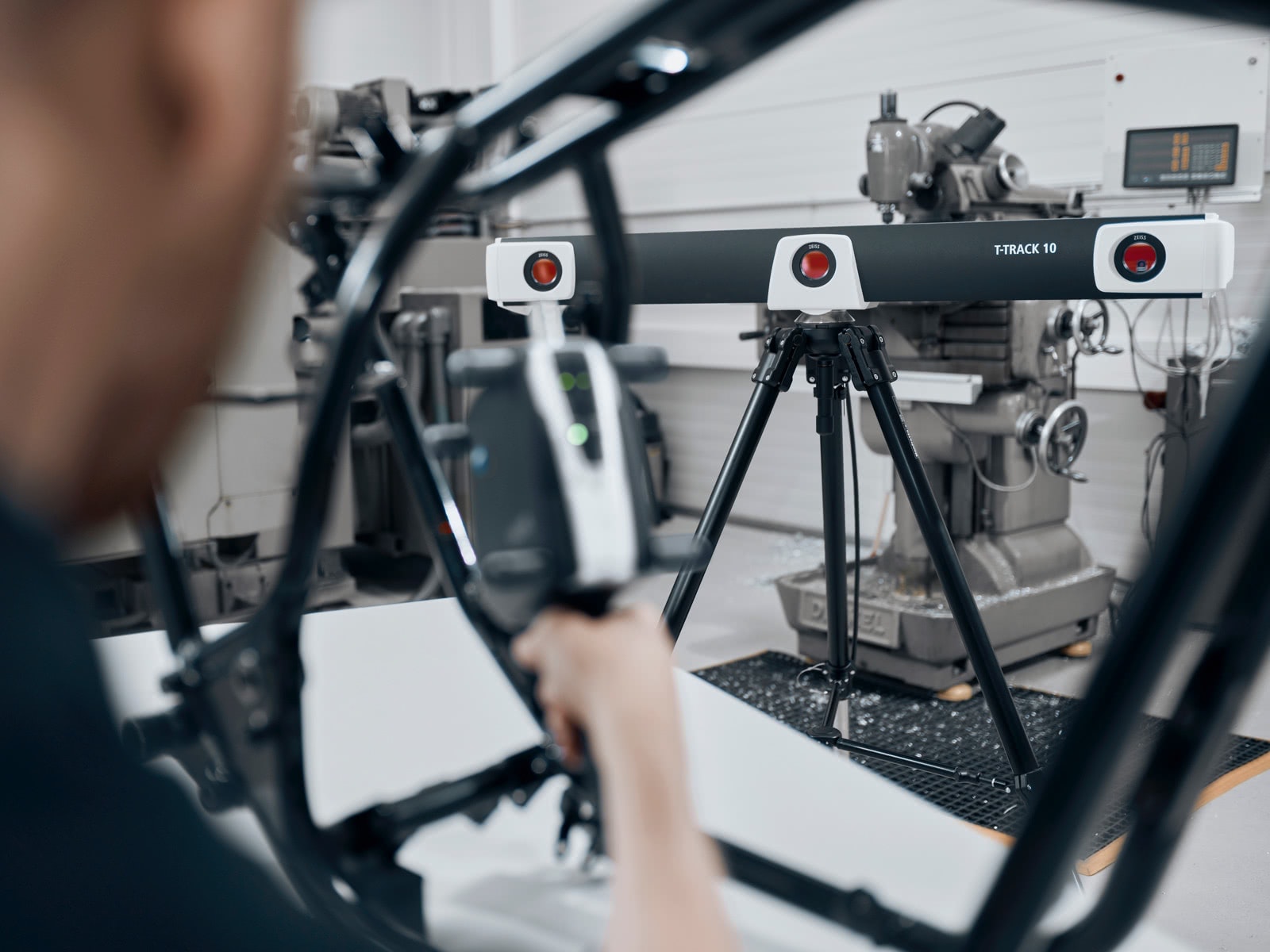 A modular all-in-one concept
The modular all-in-one laser scanning solution offers maximum flexibility for a wide variety of applications and surfaces.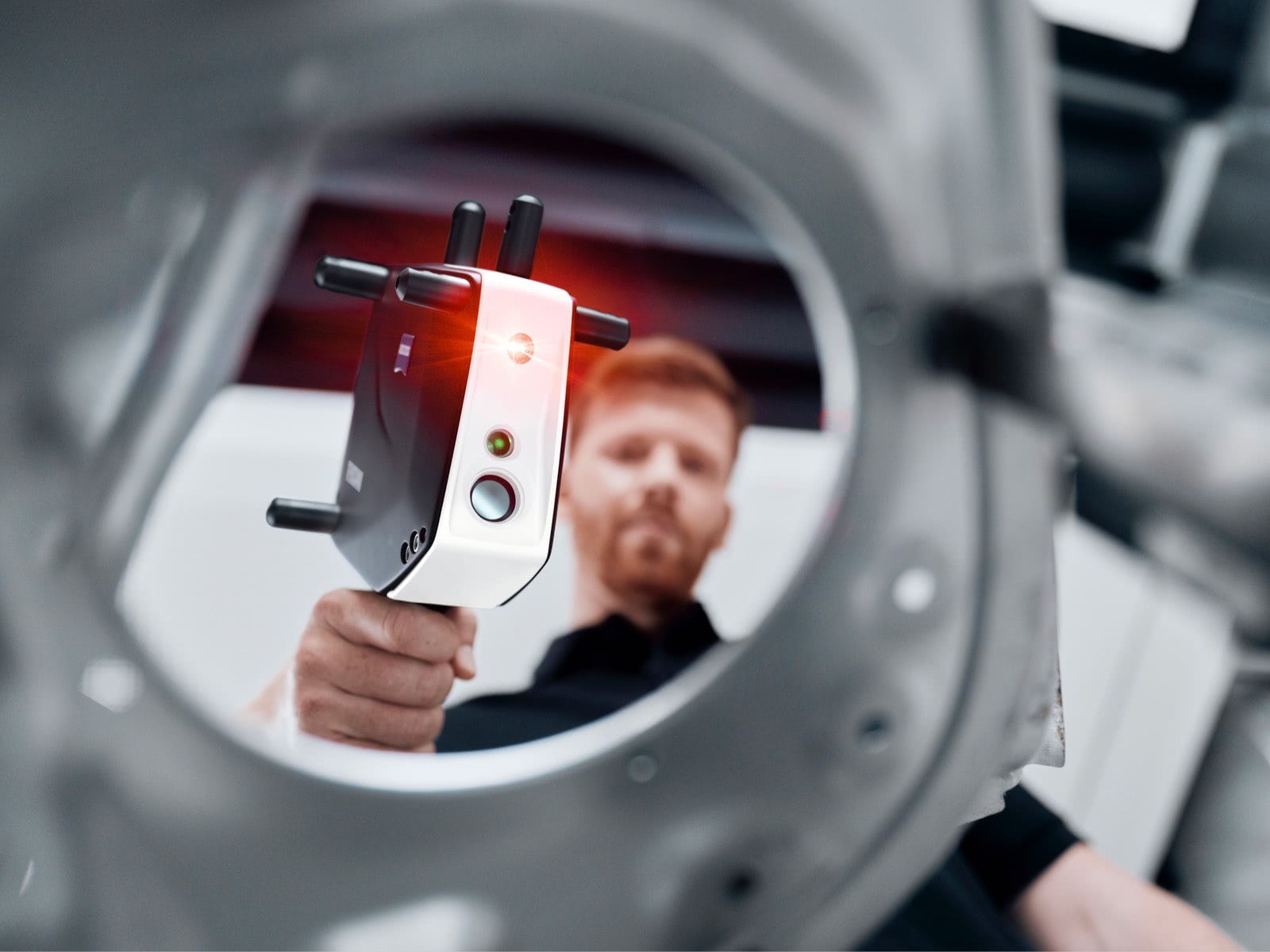 Early detection of deviations
The mobile measuring solution can be used on the shop floor and offers a fast, intuitive way to measure component parts, analyze and create a digital twin.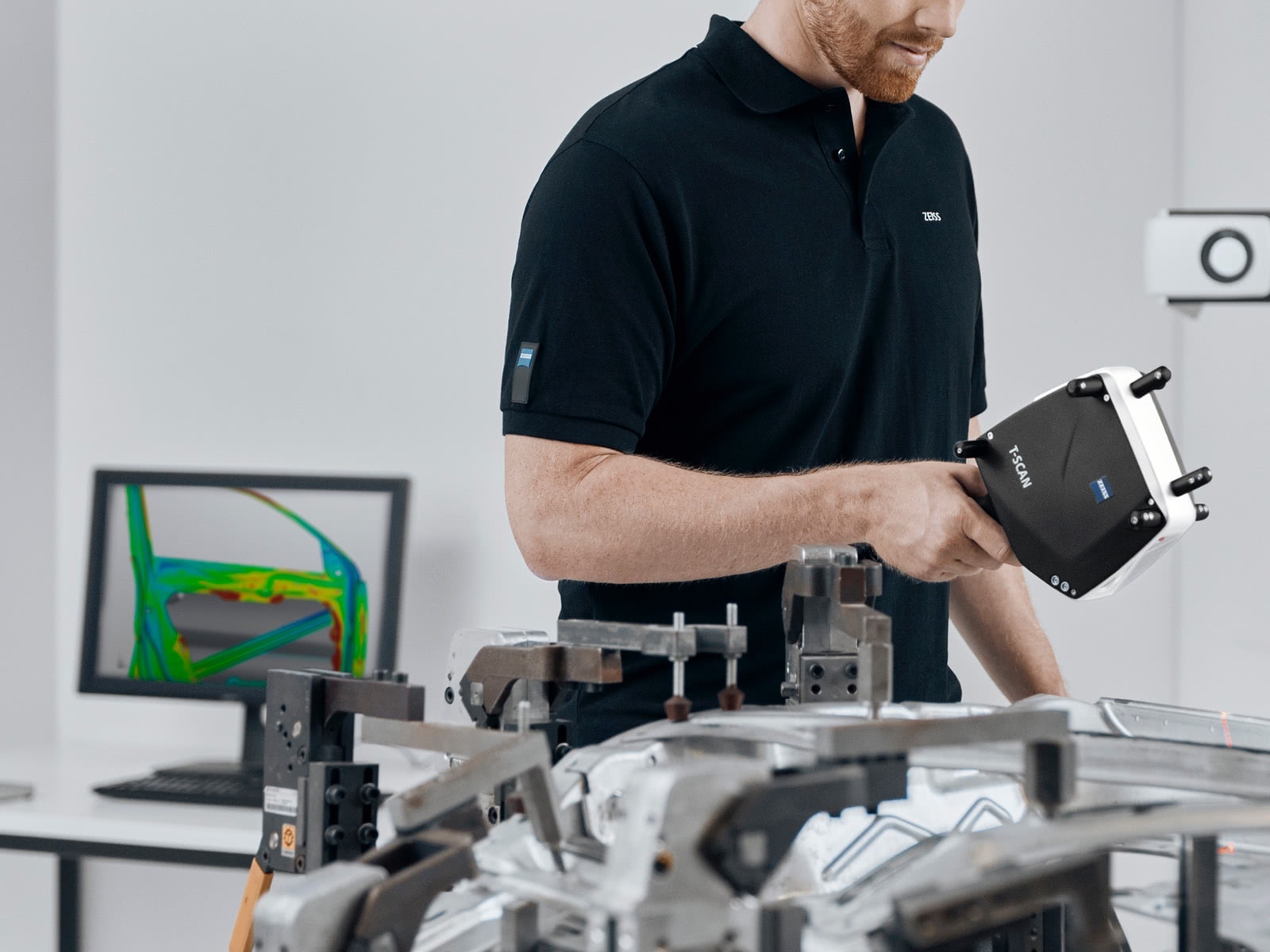 Software for a guided workflow
ZEISS INSPECT guides the operator through scanning, probing and inspecting and allows for real-time progress monitoring.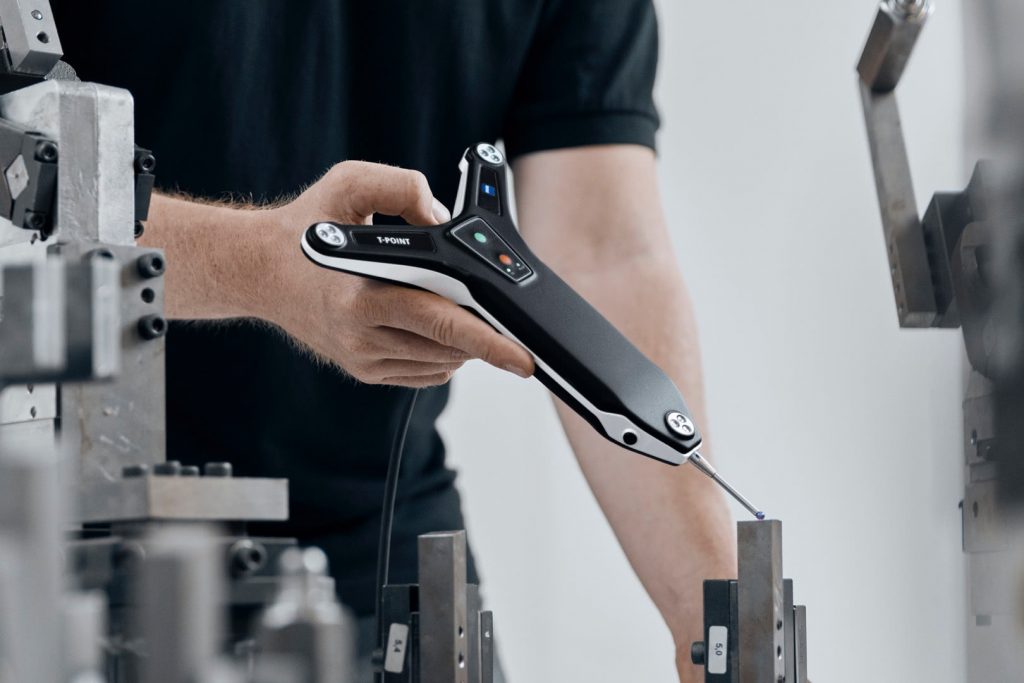 Optical tracking for small and large volumes
Combine a hand-held T-SCAN laser scanner with the optical tracking system of your choice: the established T-TRACK 20 for large measuring volumes of up to 20 m³ – or the T-TRACK 10 for a smaller measuring volume of up to 10 m³ and higher accuracy. If you want to quickly and reliably capture individual measuring positions, choose the touch probe T-POINT. It's the perfect solution for single-point measurements on object areas such as trimmed edges and standard geometrics or optically hard-to-reach areas.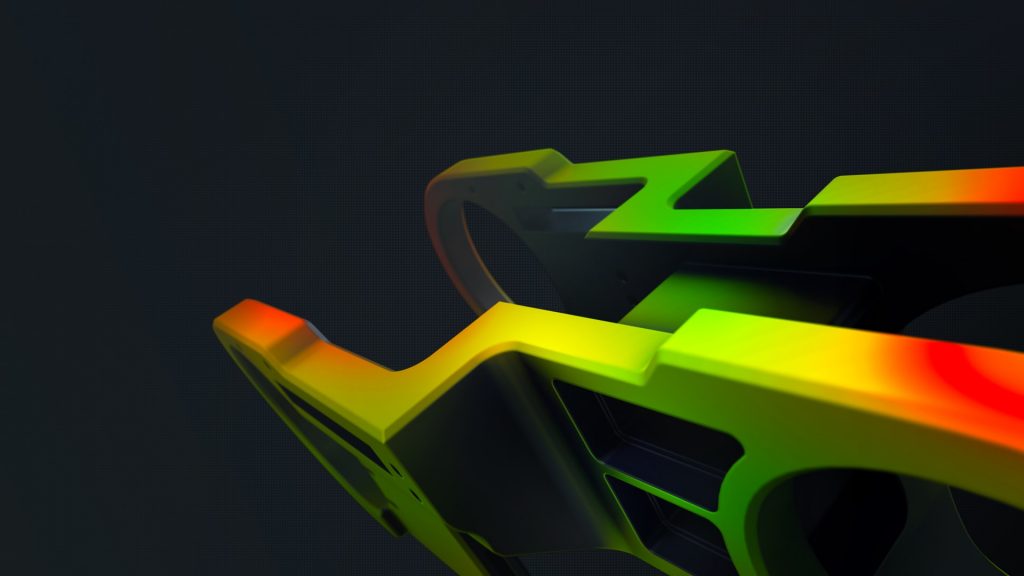 ZEISS INSPECT: Intuitive software for a simplified workflow
The modular T-SCAN system operates with ZEISS INSPECT, the all-in-one, user-centered software solution and established standard in 3D metrology. Measurements and inspection can be performed on screen, the parametric function makes all process steps traceable. For a simplified, speedier and more productive workflow.
A wide range of applications
Nominal-actual CAD-to-part comparison

Boundary edge extraction of sheet metal parts

Inspection of complex welded structures

Shop floor inspection
Tool reconstruction

Scan data for machining path generation

Actual capture following tool approval

Capture of complex component dynamics, e.g. during a clamping procedure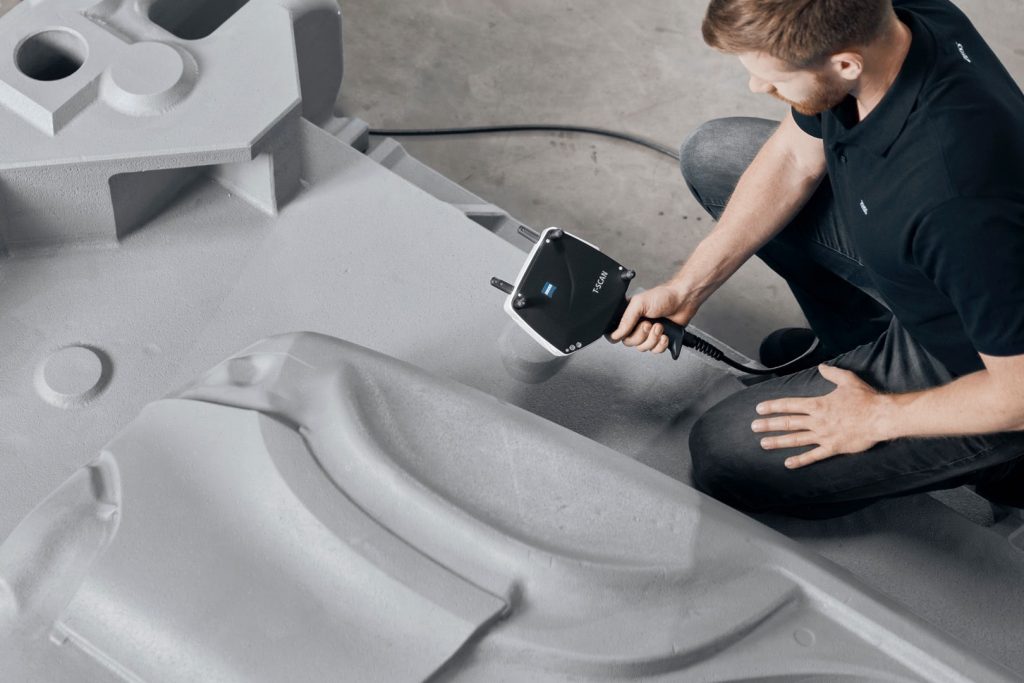 High dynamic range to scan all kinds of surfaces

Scanning of design models for CAD downstream processing and documentation

Gage and fixture setup

Fast capture of reference geometries and specified areas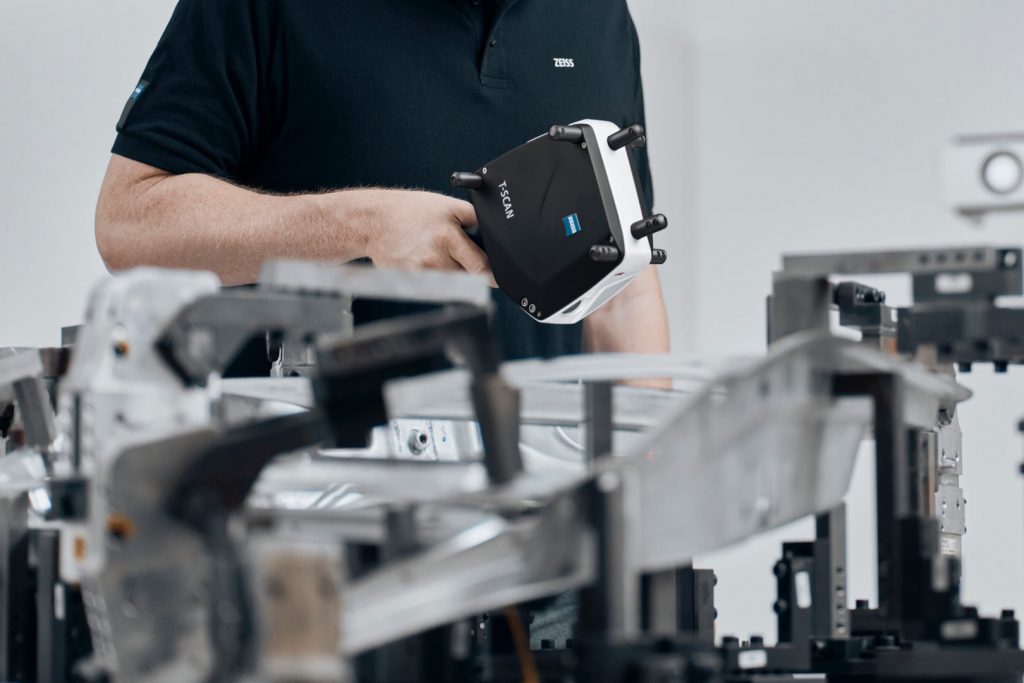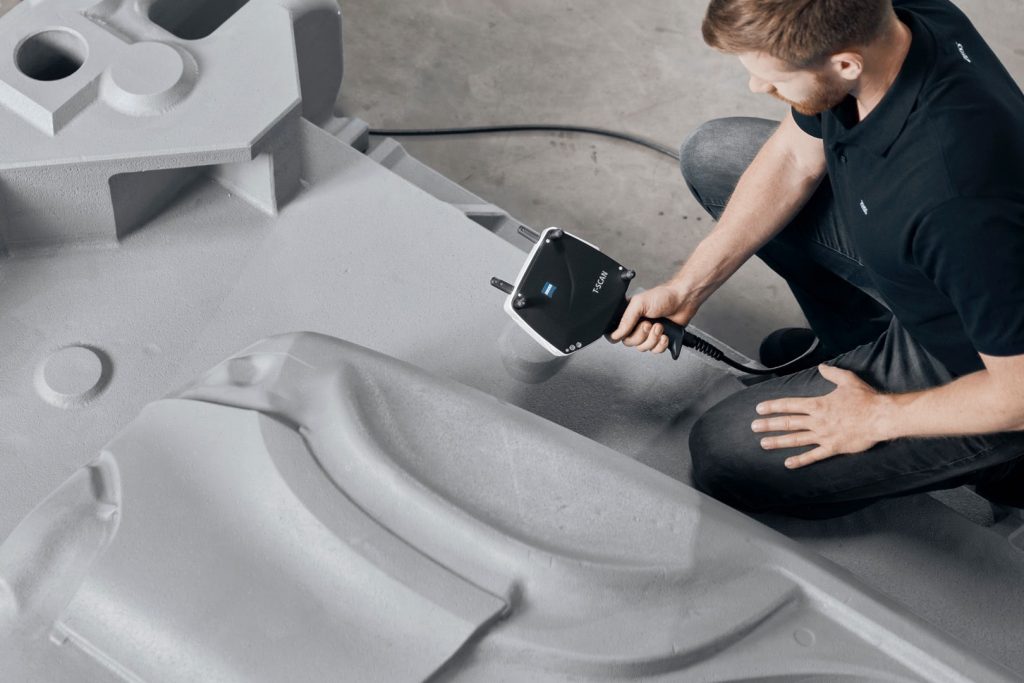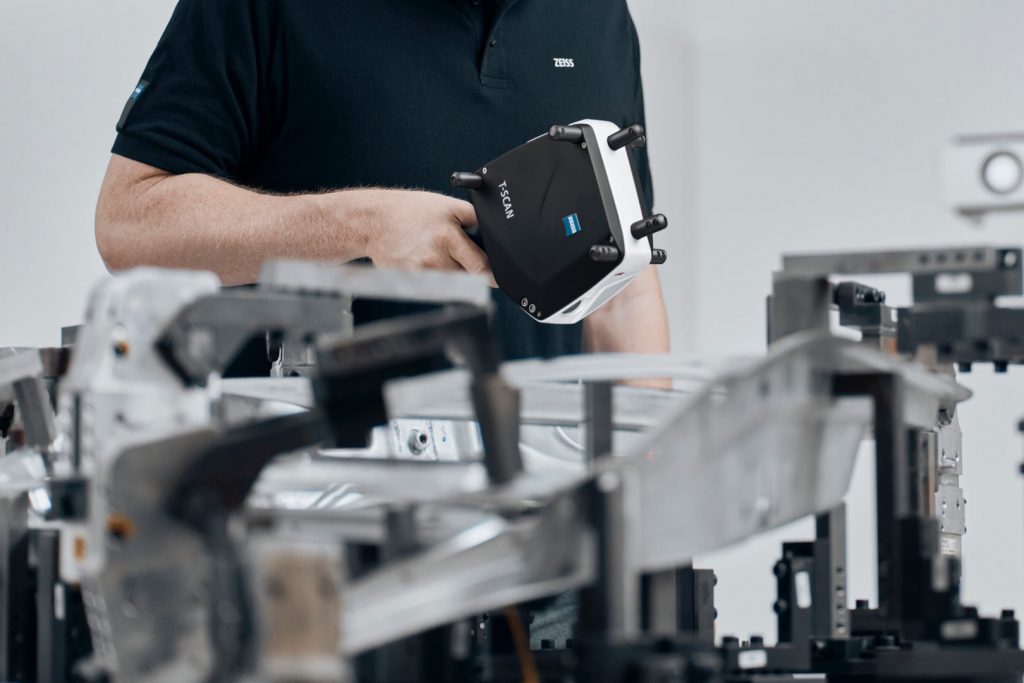 ZEISS T-SCAN hand-held laser scanner
Measurement depth
+/- 50 mm
Mean working distance
150 mm
Line frequency
up to 330 Hz
Data rate
210,000 points/second
Sensor dimensions (incl. handle and IR pins)
300 x 170 x 150 mm
Mean point distance
0.075 mm
Laser class (IEC 60825-1:2014)
Class 2M (eye-safe)
Measuring distance: object-camera
2.0 m – 4.50 m
Field of view
up to 2894 mm x 2324 mm
Measuring rate
up to 2.8 kHz
Dimensions
1150 x 180 x 150 mm
Accuracy
0.033 mm + 0.033 mm/m
Measuring distance: object-camera
2.0 m – 6.0 m
Field of view
up to 3200 mm x 2500 mm
Measuring rate
up to 2.8 kHz
Dimensions
1150 x 180 x 150 mm
Accuracy
0.04 mm + 0.04 mm/m
Do you want to find out more?
Get in touch with your local #HandsOnMetrology partner.
i
Please select the topic you seek more information about